Ernest Kaai
Ernest Kaleihoku Kaai

(1881 - 1962)


1998 Hall of Fame Inductee




The first Hawaiian ukulele virtuoso, Ernest Kaai, made appearances all over the world. Not only a gifted performer, "Hawaii's Greatest Ukulele Player" organized ensembles, composed and published music, and ran the Kaai Ukulele Manufacturing Company. He was undoubtedly the foremost ukulele authority of his time and had a profound understanding of the mechanics of playing, for which he published the first ukulele instruction book in 1906. Although known for promoting the ukulele as a featured instrument in the Hawaiian orchestra, his sophisticated fingering, picking, and stroke styles also inspired the modern establishment of the ukulele as a solo instrument.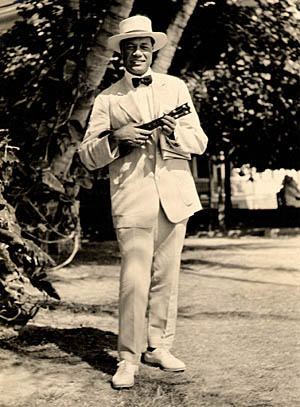 Ernest Kaai, circa 1917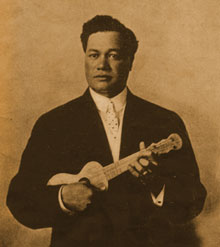 Ernest Kaai
From his 1910 ukulele method


Ernest Kaai, arguably the most influential musical figure in Hawaii in the first quarter of the 20th century, was a gifted performer on many instruments including the mandolin, guitar and ukulele. He was also an impresario, teacher, publisher, and recording artist. Known in Honolulu as the "Father of the Ukulele", Kaai was said to have been the first musician to play a complete melody with chords.


Kaai wrote the earliest known ukulele method, "The Ukulele, A Hawaiian Guitar and How to Play It", published in 1906 by Wall, Nichols Co. of Honolulu, with a revised edition published in 1910. The method contains notation conventions, including chord frames, rudimentary tablature, and a hierarchical chord nomenclature that has since become associated with Hawaiian music. It is probable that Kaai invented these notational styles for ukulele.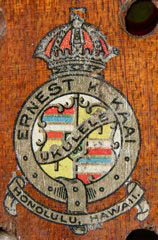 Kaai Ukulele Manufacturing
headstock decal




In addition to his musical skills, he also owned the Kaai Ukulele Manufacturing Company, advertised from 1909-1920. Although it was sold in 1917 and Kaai became a shareholder in the newly formed Aloha Ukulele Manufacturing Company, his namesake company apparently continued without reference to whomever was the actual instrument maker in those following years.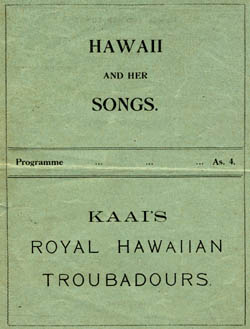 Program from a performance of Kaai's
Royal Hawaiian Troubadors


Kaai left Hawaii in 1923 to tour the Far East and Australia, and eventually settled in Sri Lanka. In the mid-1930s, he planned to open a "Hawaiian Village" in Shanghai, China, but the war forced him to flee and he returned to Hawaii in 1937. He moved to Miami, Florida, in 1941 and incorporated the Kaai Music Studios in 1946. He died in Miami in 1962.