Manuel Nunes
Manuel Nunes

(1843 - 1922)


1998 Hall of Fame Inductee




Manuel Nunes emigrated to Hawaii from Madeira in 1879 and quickly became a major force in the transformation of the Madeiran machete to the Hawaiian ukulele. He established himself as one of the earliest ukulele makers and operated his manufacturing company for over 40 years, much longer than any of the early makers. Many of his handcrafted instruments bore the label "M. Nunes, Inventor of the Ukulele and Taro Patch Fiddles in Honolulu in 1879." His skills were inherited by apprentices such as Samuel Kamaka and his son Leonardo Nunes, who carried on the tradition of fine quality ukulele construction.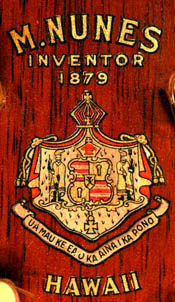 Nunes Decal circa
1915-1918



Ukulele pioneer Manuel Nunes was born on June 14, 1843, in Funchal, Madeira, the son of Ricardo Antonio Nunes and his wife Maria Gomes. Nunes, a young widower, was age 36 with four children (Manuel, Maria, Leonardo, Augusto) and newly married to his second wife, Isabel, age 18, when he and his family arrived in Honolulu on August 23, 1879 aboard the Ravenscrag -- the same ship that also carried fellow ukulele pioneers Augusto Dias and Jose do Espirito Santo. Five more children (John, Mary, Julius, George, Antone) were born to Nunes in Hawaii.

The Portuguese Consul General in Hawaii listed Nunes, Dias, and Santo as laborers, as they were contracted as plantation hands for their first few years in the islands. By 1884, some of the Portuguese men had returned to Honolulu and their woodworking roots. In this year, Nunes is listed in the Honolulu directory as a cabinetmaker and Dias as a guitar maker. In the following year, the first issue of Luso O Hawaii advertises both Nunes and Dias as makers of machete. By 1889, Nunes, Dias, and Santo are all in the city directory as guitar makers. Over the next decade, the combined efforts of these three men, and the patronage of King Kalakaua, popularized the new instrument that became known as the ukulele.




Nunes signature on ukulele label


In 1910, Nunes established M. Nunes and Sons with Leonardo and Julius. By this time, Santo had died an untimely death and Dias retired due to illness. M. Nunes and Sons listed themselves in the Honolulu directory as "Manufacturers of the only genuine ukulele, Hawaii's sweetest toned instrument". In 1916, Nunes was listing himself in the city directory as the "Inventor of the Original Ukulele", although he was advertising elsewhere with this moniker a few years earlier.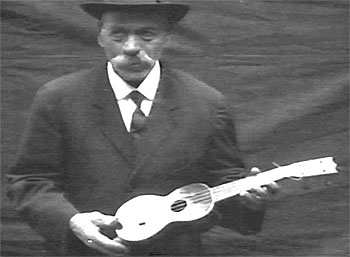 Manuel Nunes, 1917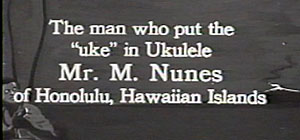 Nunes' sons, Julius and Leonardo, both branched out with their own ukulele manufacturing businesses. Julius returned to M. Nunes and Sons after a brief stint as manager of Nunes Ukulele Company in 1915. Leonardo, on the other hand, had left Hawaii for Los Angeles at this time, where he began making instruments labeled "Ukulele O Hawaii made by Leonardo Nunes".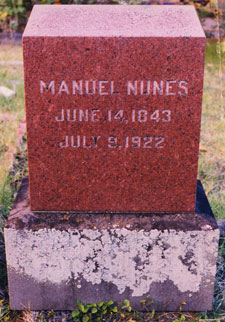 Nunes' gravestone in Honolulu, 1997



Manuel Nunes' wife, Isabel, died at age 55 in 1916 and he stopped making instruments in 1917. He died at the home of Julius in 1922 at age 79. Both Isabel and Manuel are buried in the King Street Cemetery in Honolulu.