Johnny Marvin
Johnny Marvin

(1897 - 1945)


2003 Hall of Fame Inductee




Johnny Marvin was one of the great crooners of the 1920s, and his ukulele accompaniment was unsurpassed. In the decade when the ukulele was enjoying its greatest popularity, Marvin was one of the premiere ukulele performers. Although his name is not as recognized today as a few other 1920s ukulele artists, in his day he was a well-known radio personality and recording artist. Marvin made dozens of records both under his own name and as "Honey Duke and his Uke" and "The Ukulele Ace". Many of these records document his talented strumming patterns, vocal jazz effects that imitate other instruments, and his smooth crooning.




John Senator Marvin was born July 11, 1887 in Butler, Oklahoma, son of John Harvey Marvin and his wife Molly. As a youth, Marvin was called by his middle name, Senator, to distinguish himself from his father, and continued with this name when he left home at age 16 to join a traveling show called the Royal Hawaiians, playing steel guitar and ukulele.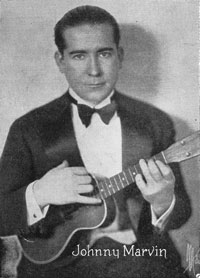 Johnny Marvin, from sheet
music cover, 1920s



After a stint serving as a Navy barber in World War I, Marvin toured with the vaudeville group Sargent, Marvin, and the four Camerons, playing many different instruments. He recorded as Sargent and Marvin with his touring partner Charles Sargent for awhile, but not with any great success. His first well-received endeavor was his first solo recording with ukulele in 1924, using Johnny Marvin as his professional name in a song called "You know me Alabam" on the Radiex label.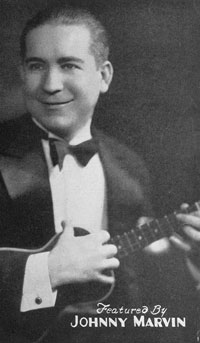 Johnny Marvin, from sheet
music cover, 1920s





Marvin continued his undertaking as a solo vocalist and ukulele player to great success. He was widely acclaimed with such comments as "excellent uke stuff", "uke warbling", and "uke specialist". He was compared to Ukulele Ike, who was wildly popular at the time. Marvin's emulation of Ukulele Ike, having mastered the art of eefin', may have been his springboard to stardom.


Marvin signed with Columbia Records in the mid-1920s recording as Johnny Marvin, The Ukulele Ace. The contract was not exclusive, and he also made recordings for other record labels and their dime-store subsidiaries under many pseudonyms, such as Jimmy May and His Uke, Ukulele Luke, George Thorne, Billy Hancock, Ken Wallace, Elton Spence and His Uke, and Jack Lane and His Uke. The most popular of his pseudonyms was Honey Duke and His Uke on the Harmony label. Interestingly, he recorded under his own name, Johnny Marvin, on Edison wax cylinders.


In late 1926, Marvin appeared in the Broadway play Honeymoon Lane, playing and singing the show tunes in the role of Honey Duke. He was very successful in this role, continuing into mid-1927, a year that brought the most prolific recording of his career. He signed exclusively with Victor Records and started touring in a vaudeville act.

Johnny Marvin ukulele
manufactured by the
Harmony Musical
Instruments Company,
Chicago, Illinois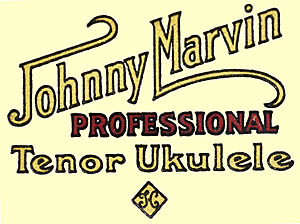 Headstock decal from the Johnny Marvin ukulele
manufactured by the Harmony Musical
Instruments Company, Chicago, Illinois



Marvin signed with Harmony Company of Chicago in 1928 to promote a signature model Johnny Marvin tenor ukulele (by today's standards, this uke is considered concert-sized). As publicity for Marvin's preparation to set sail for a long engagement in London, Harmony supplied Marvin with 10,000 miniature ukuleles as giveaways and presented to the Prince of Wales a gold-engraved Johnny Marvin ukulele. In addition, Harmony came out with a Johnny Marvin Professional Tenor "Prince of Wales model" for the general public, made of koa wood.


Marvin returned to the U.S. at the pinnacle of his success. He was a popular vaudeville attraction, one of Victor records best-selling singers, and the Johnny Marvin ukulele was a good seller. However, by the early 1930s vaudeville was fading as film and radio continued successfully. Marvin became involved with NBC radio, especially from 1932-1935 in his daily radio show Johnny Marvin, Tenor. At this time, he was periodically doing shows and recoding with his brother, Frankie. They both moved to Los Angeles in 1937, where Marvin primarily worked as a composer and producer. He partnered with his long-term friend Gene Autry as the Western Music Publishing Company, working with Autry as a writer and producer on the Melody Ranch Show, and writing approximately 80 songs for Autry's films.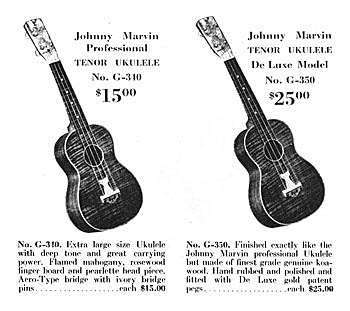 Advertisement for the Johnny Marvin ukulele, showing
both the standard mahogany model, as well as the koa
"Prince of Wales" model



With the inset of WWII, Marvin toured the South Pacific military bases several times entertaining troops during World War II. In 1943 in Papua, he contacted dengue fever, a form of malaria. Having returned to the United States, and having converted to Christian Science faith, he refused treatment for his illness, which ultimately led to his death from a heart attack in 1945 at his North Hollywood home.