Bill Tapia
Bill Tapia

(1908 - )


2004 Hall of Fame Inductee




With a performing career spanning nearly nine decades, Bill Tapia has been involved with the ukulele, jazz, and Hawaiian music perhaps for longer than any other living person. He began his career in the teens as a child performing for tourists on the streets of Waikiki and he continues playing to this day. In the 1920s and 30s he performed with many of the biggest names in Hawaiian music and pioneered an incredible style of jazz ukulele playing. Today he is a living link to some of the earliest ukulele makers and players. In the last few years, he has again been performing and recording on the ukulele, assuring that music fans now and in the future will be able to appreciate the incredible skills of this legendary performer.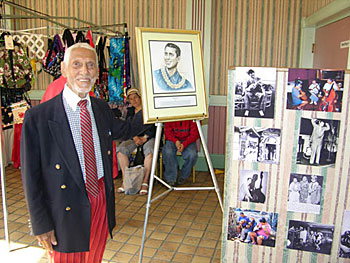 Bill Tapia poses with his Hall of Fame portrait at
Ukulele Expo's Uke Fest West, April 2004



Born in Honolulu on New Year's Day, 1908, Bill Tapia taught himself ukulele as a young child, and by age 10, was strumming on the streets for tourist tips and entertaining WWI troops stationed at Pearl Harbor. At age 12, he left school to help support his family by working in the Honolulu vaudeville circuit, where he became a huge hit playing his ukulele behind his head and offering up his trademark, spirited interpretation of "Stars and Stripes Forever."


At age 19 in 1927, Tapia opened the Royal Hawaiian Hotel as a featured player in famed Hawai'ian bandleader and composer Johnny Noble's orchestra. He became one of the Royal Hawaiian's "musical drivers," who chauffeured wealthy hotel guests around the island, stopping to sing Hawaiian songs to their passengers with Diamond Head in the background.


Over the 1920s and 30s, Tapia became a fixture on the Waikiki music scene. He gave lessons to celebrities such as Betty Grable, Jimmy Durante, and Buster Crabbe, and he hung out with Waikiki beach boys, such as Sam and Duke Kahanamoku. He was in demand as a guitar and ukulele player with top bands and had his own group, Tappy's Island Swingers.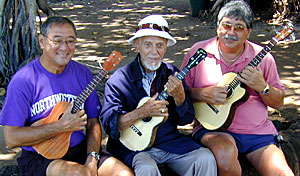 Byron Yasui, Bill Tapia, and Benny Chong,
Honolulu, 2003



Following WWII, Tapia settled on the mainland to pursue his jazz passion. Most gigs with the big bands required guitar playing, and this became his main professional instrument for over 50 years, playing with swing bands, teaching, doing studio sessions, playing in TV orchestras, and working as a sideman in band after band.


Tapia would play his ukulele at home for his wife, Barbie, and his daughter, Cleo. Their favorite song was "To you, Sweetheart, Aloha". Tapia lost both his wife and daughter within a short period of time in 2001. In the down period following their deaths, Tapia was rediscovered as an ukulele player and has embarked on a comeback over the past few years.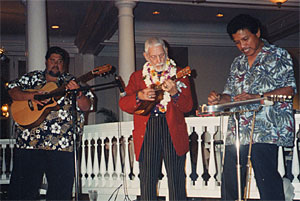 Bill Tapia performs at the Moana Hotel


In 2002, Tapia play at the 75th anniversary of the Royal Hawaiian Hotel, the only musician who had played at the Royal Hawaiian's grand opening in 1927. He released his first ever CDs, Tropical Swing in 2004 and Duke of Uke in 2005, both having scored top 10 on the CMJ jazz charts. He has since been performing sellout shows all over the West Coast and Hawaii.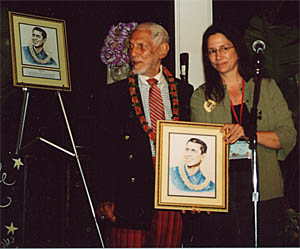 Nuni Walsh of the Ukulele Hall of Fame presents
Bill Tapia with his Hall of Fame induction portrait at
Ukulele Expo's Uke Fest West, April 2004