George Formby
George Formby

(1904 - 1961)


2004 Hall of Fame Inductee




Known as "Ukelele George," George Formby's career spanned four decades during which he entertained countless people. Formby is singularly responsible for the ukulele's recognition and popularity within the British Commonweatlh during the 1930s and 1940s, appearing with his signature "banjulele" in 21 movies, hundreds of original songs and thousands of performances. During WWII, Formby entertained several million allied servicemen in Europe and the Middle East, for which he was awarded the Order of the British Empire (O.B.E.) in 1946. He won such love and respect for his charismatic stage presence, technical skill and playful lyrics that he remains popular forty years after his death.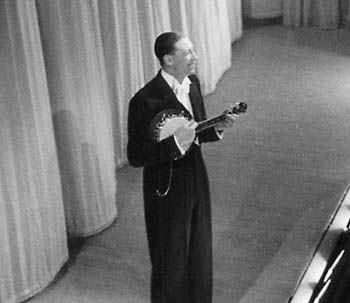 George Formby



George Formby began playing his uke on stage when he was 19 years old, and his showbiz career continued for the next thirty-eight years up until his death, during which time he contributed 21 movies, more than 230 record recordings, and performances in front of an estimated 3,000,000 servicemen and women (for which efforts he was awarded the O.B.E.), not to mention countless regular stage appearances. Formby helped write and performed over 300 original songs largely flavored with his own brand of English North Country humor. By 1939, Formby was the most popular and highest paid entertainer in the British Isles and was estimated to be earning over £100,000 a year.


Born George Hoy Booth, in the Northern England town of Wigan, he trained as a jockey from the age of seven, but when his father--a well-known entertainer--died in 1921, George decided to take his place on the stage to help out the family. He initially used his father's act and stage name, George Formby, but found little success. After struggling along for two years, he met a fellow actor who strummed a banjo ukulele for fun between shows. He sold the instrument to Formby for £2.50 and Formby quickly learned a couple of songs. He found his act much better received, though it was not until 1932, after the release of the song "Chinese Blues," that he became a household name and his career really took off. Ill health in the 1950s slowed him down a little, but he continued to perform until shortly before his death in 1961 at age 56.


As the current President of the George Formby Society, Dennis Taylor, explains: "The secret of his success was a unique combination of personality, natural ability, and talent, coupled with the driving force of his wife, Beryl, as his manager. With his natural human warmth and friendliness, George could hold a live audience in the palm of his hand as a sang and played the ukulele in his own inimitable style. He seemed to have the ability to make people enjoy what he did, and his audiences always called for more." The George Formby Society was founded in September 1961, and today has well over 1000 members worldwide.