Arthur Godfrey
Arthur Godfrey

(1903 - 1983)


2001 Hall of Fame Inductee




It is likely that no other single person has been directly responsible for the sale of as many ukuleles as Arthur Godfrey. As an enormously popular television star at the beginning of the 1950s, Godfrey single-handedly initiated the second great wave of ukulele popularity in the United States. He played his ukulele regularly on his radio and television shows, and even had a show where he gave ukulele lessons to his television audience. Sales of all types of ukuleles soared, and Godfrey's endorsement helped sell millions of the newly introduced plastic ukulele models.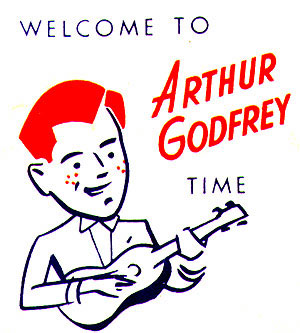 Image from a sugar packet, souvenir of the
Arthur Godfrey Time television show


Born in New York City in 1903, Arthur Godfrey was a radio personality for almost 20 years before becoming one of the biggest stars of the early days of television. He learned to play ukulele from a Hawaiian shipmate while in the Navy. He is credited with nearly single-handedly creating the huge wave of ukulele popularity that occurred around the early 1950s.

Through most of the 1950s Godfrey hosted a daily radio program and appeared in two top-ten prime time television shows, all for CBS. He also hosted a short-lived show called Arthur Godfrey and His Ukulele, where he taught viewers how to play the ukulele. He wasn't considered a great singer or an extremely skilled ukulele player, but he was still immensely popular.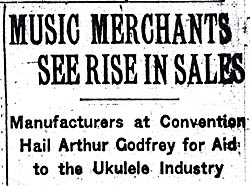 NY Times article headline, July 1950



Many people feel that Godfrey was television's first great master of advertising, hawking products he actually used. When he promoted the new plastic Islander ukuleles being produced by Mario Macaferri, their sales exploded. Millions of plastic ukuleles were sold and, with Godfrey's popularity, the sales of traditional wooden-bodied ukuleles also greatly increased. In July of 1950, the New York Times printed an article about the greatly increased ukulele sales, and the music industry leaders quoted all agreed that Arthur Godfrey's promotion of the instrument was the cause. In another contribution Mr. Godfrey made to ukulele history, he asked Eddie Connors to design what would become the first baritone ukulele.