Cliff Edwards
Cliff Edwards

(1895 - 1971)


2000 Hall of Fame Inductee




The image of a 1920s ukulele-playing crooner stems from the popularity of Cliff Edwards, best known as "Ukulele Ike". Although he is now remembered worldwide as the voice of Jiminy Cricket and singer of the Oscar-winning "When You Wish Upon A Star" in the 1940 Disney movie Pinocchio, he established himself long before this as an amazing ukulele strummer with a unique three-octave voice and a scat-singing style he called eefin'. From the 1920s to the 1960s, he appeared in over 100 movies, recorded hundreds of songs, and compiled collections of standard tunes arranged for the ukulele. His immense popularity during the Vaudeville era made "Ukulele Ike" a household name.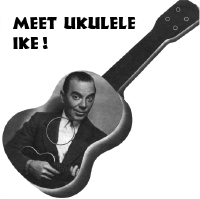 Ukulele Ike Image from a magazine
write-up on Ukulele Ike, circa 1930s




Cliff Edwards was born in 1895 in Hannibal, Missouri. As a teenager in St. Louis, he sang in movie theaters and saloons, and soon began to accompany himself on ukulele. He developed an unusual singing style with his three-octave vocal range, in which he would solo his unique voice as if he was playing a kazoo. He called it "eefin". This singing style was copied by many others of the period, and it evolved into what is generally known as scat-singing. Edwards' 1922 recordings with Ladds Black Aces and Bailey's Lucky Seven are the first known recorded examples of scat singing.


In addition to his ukulele-playing fame, Edwards had a long career on Broadway and in Hollywood. He appeared in over 100 movies and made hundreds of recordings, not necessarily all associated with ukulele music. His biggest success came later in his career, when he was cast as the voice of Jiminy Cricket and sang the Oscar-winning song "When You Wish Upon A Star" in the 1940 Walt Disney movie Pinocchio.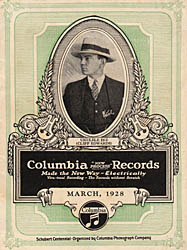 Columbia Records catalog, 1928






When we think of the 1920's, we conjure up an image of a crooner with his ukulele. This image is based on the beautiful voice, ukulele mastery, and unrivaled popularity of Ukulele Ike. As the story goes, Edwards acquired his nickname early on while perforning in Chicago. A particular waiter who could never remember Edwards' first name always referred to him as Ike, and "Ukulele Ike" was born.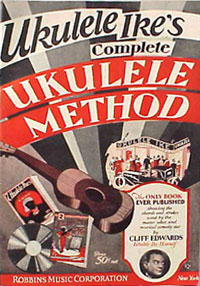 Ukulele method, 1928



Although Edwards used the ukulele primarily for accompaniment, his ukulele playing was that of a master. He had the ability to get near-symphonic sounds from his strumming. He was so popular in Vaudeville of the 1920's that Ukulele Ike was a household name. He also helped to popularize the instrument by publishing three collections of standards arranged for the ukulele.