Herb Ohta
Herb Ohta

(1934 - )


2006 Hall of Fame Inductee




A brief retrospective of the accomplishments of Herb Ohta reads like a thesaurus entry for superlatives: the first, the most, the best. No one in the last half of the 20th century has done more to explore the musical possibilities of the ukulele - or expanded our vision of what those possibilities are - than Ohta-san. In a performing, recording and teaching career spanning five decades he has created an unprecedented body of work and has arguably inspired and influenced more players than any other living ukulele virtuoso. His devotion as a kumu ukulele has had - and continues to have - an incalculable impact on the stature of the instrument worldwide and ultimately, as his students introduce new generations of players to the ukulele and its music, this may be Herb Ohta's greatest legacy.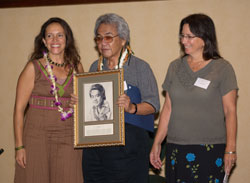 Donelle Camarillo (portrait artist, left), and
Nuni Walsh (UHoFM, right) presenting Herb Ohta
with his Ukulele Hall of Fame induction
portrait, November 2006


Herb Ohta is a name known around the world. He is certainly the most prolific ukulele recording artist of the 20th century, as he has recorded more ukulele music than any other person in history, and continues to do so today. His life's work has touched every ukulele player of the last four decades.


After retiring from the Marines in the mid-1960s, Ohta was introduced to Don McDiarmid Jr., president of Hula Records. In his Hawaii debut, Ohta recorded the single "Sushi" as Ohta-San, a name selected by Diarmid. The song became a #1 hit in Hawaii within weeks, and Ohta's recording career began.


In a 2006 interview for the Honolulu Star-Bulletin, Ohta estimated that he made about 10 albums for Hula Records, another 10 for the Poki recording company in Hawaii, another 30 in Japan, and a variety of recordings for Decca, Flea Market Music, and some European labels.


Ohta has won four Na Hoku Hanohano Awards, for his instrumental arrangements of "E Ku'u Morning Dew" and "Honolulu City Lights," and for his 1981 album, "Island Favorites," and his 1987 album, "Ohta-San," one of the first released by Roy Sakuma's label.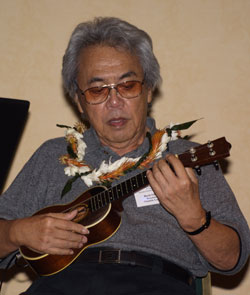 Herb Ohta entertains the crowd at the
Ukulele Guild of Hawaii's convention,
November, 2006





His "Song for Anna", recorded in the 1970s, is Ohta's biggest international hit and the biggest selling ukulele song of all time. He revisits this hit as a guest player on a 2006 album recorded by his son, Herb Ohta, Jr, and Daniel Ho.


Ohta received three honors in 2006, the Hawaii Academy of Recording Arts Lifetime Achievement Award as an ukulele virtuoso, the Ukulele Guild of Hawaii award as an ukulele treasure, and the Ukulele Hall of Fame Museum induction.


Herb Ohta has a couple of interesting ties already to the Ukulele Hall of Fame. The "Ohta-San model" ukulele is manufactured by the Kamaka family, who very successfully continue the ukulele-making tradition of Sam Kamaka Sr., year 2000 Inductee to the Hall of Fame. In addition, Herb Ohta's mentor, the great Eddie Kamae, is a year 2001 Inductee.