Lyle Ritz
Lyle Ritz

(1930 - )


2007 Hall of Fame Inductee




As a highly regarded studio bassist in Los Angeles in the 1960s and 1970s, Lyle Ritz could hardly have imagined the impact of a few earlier recordings he had done using a considerably smaller four-string instrument. His two ukulele jazz recordings on the Verve label in the late 1950s, "How About Uke?" and "50th State Jazz", were unlike anything previously recorded. Ritz will always be known as the brilliant pioneer in the area of ukulele jazz. His recordings are legendary and have inspired countless players both in Hawaii and on the mainland. Ritz returned to his ukulele roots in the mid 1980s, releasing a number of more recent recordings as well as an instructional book of his arrangements.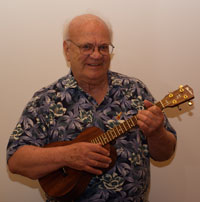 Lyle Ritz, June 2007


Lyle Ritz was born January 10, 1930 in Cleveland, OH. Originally a tuba player in the 1950s at USC, Ritz learned to play bass as an Army draftee during the Korean War from a fellow draftee, Lennie Niehaus, the lead alto saxophonist for Stan Kenton.


In a part-time job at Southern California Music Company in Los Angeles, Ritz first picked up an ukulele and and became attracted to its sound. He purchased a Gibson tenor and became adept at chord work. It was at this job that a Verve representative heard him playing his ukulele and approached him with a recording offer.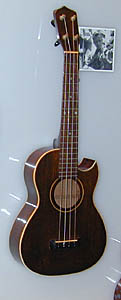 Gibson tenor
ukulele modified
with a cutaway,
used by Lyle Ritz
on the Verve
recordings


Ritz recorded two jazz ukulele albums with his Gibson on Verve Records, "How About Uke?" released in 1958 and "50th State Jazz" released in 1959. Although he set the ukulele aside for the mainland studio recording scene, these two albums were hugely influential among a whole generation of Hawaiian ukulele players, including such names as Peter Moon, Roy Sakuma, and Moe Keale.


In the early 1960s, Ritz was part of the legendary "Wrecking Crew" of the Hollywood studio scene, the legendary group of session men and women who played on many of the 1960s greatest hits. He became one of the most sought-after studio bass players in Los Angeles, hired for over 5,000 individual recording sessions.


From the 1960s through the 1980s, Lyle contributed to well-known jazz, rock, and pop hits, heard behind many of the top names of the era: Frank Sinatra, Linda Ronstadt, Herb Alpert, The Righteous Brothers, Sonny and Cher, The Beach Boys, Ray Charles, Tina Turner, and Johnny Mathis.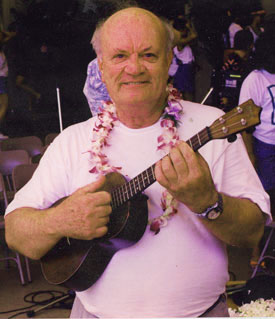 Lyle at Roy Sakuma's ukulele festival,
Kapiolani Park, Waikiki 1997


Ritz also worked in the world of television and film with his bass as part of the soundtrack to shows such as The Rockford Files, Name That Tune, and Kojak. Burt Bacharach and John Williams called him for their Oscar-winning movie scores. His only professional ukulele gig during this time was playing the ukulele sound behind Steve Martin's rendition of "Tonight You Belong to Me" in "The Jerk".


In the late 1980s, Ritz once again started to play the ukulele regularly after becoming friends with musicians such as Ohta-San and Roy Sakuma. He moved with his family to Oahu and he appeared four years in a row at the annual Ukulele Festival sponsored by Roy Sakuma. In one of his appearances, he played ukulele with his daughter, Emily. In 1998 he participated in the Ukulele Hall of Fame's

Ukulele Masters

concert series.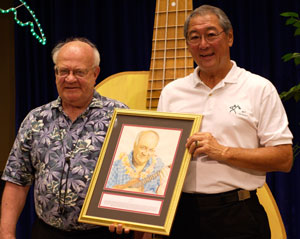 Byron Yasui presenting Lyle with his Ukulele
Hall of Fame portrait at his induction ceremony
at the Portland Ukulele Festival, June 2007


Ritz now lives in Oregon with his family and has a variety of ukulele jazz CDs released since his rediscovery of the uke: " A Night of Ukulele Jazz Live at McCabes" recorded with Ohta-San, "I Wish You Love" recorded with Rebecca Kilgore, "No Frills" recorded in his home studio, and "Time...Ukulele Jazz" on the Roy Sakuma label.


Undisputedly the world's most revered jazz ukulele player, his recordings shaped the musical conception of the instrument for an entire generation of highly influential performers and teachers in Hawaii. Lyle's induction into the Ukulele Hall of Fame coincides with the 50th anniversary of his first ukulele album. He was inducted into the Ukulele Hall of Fame on June 22nd, 2007 at the Portland Ukulele Festival.